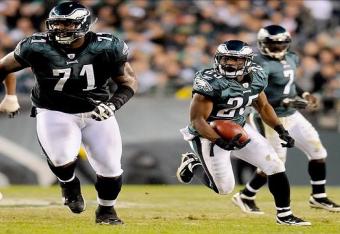 Jason Peters is on record for claiming that the Philadelphia Eagles will surpass last years win total.   In any other year, that might be cause for headlines, but coming off a 4-12 season, it's certainly the expectation of coaches and fans.  Peters was also asked what he expected from the offensive line this season. "Try to be the best. Try to give up the least sacks ever in Eagles history. That's the first goal. Try to get a championship. We have an athletic line, and if we come together, we're going to win games because it all starts with us."
Well the man who has led the Eagles runners in so many blocks downfield has his first chance since 2011 to lead the Eagles offensive line in NFL game action.  The 6'4, 340-pound lineman's return is huge for an Eagles team that lost 12 games and surrendered 48 sacks during his absence.  With so much going wrong last year, one might think Jason Peters would let his play speak for itself, but like a huge thunderstorm rumbling in the distance, this elite offensive tackle is already shaking things up:
"[LeSean McCoy] is definitely going to be over 1000 yards," said Peters. "Early.  Earlier than he has been.  The defensive line and linebackers are going to be winded, and we're still going to be pushing on the D-Line.  He's going to break out early this year.   As the year goes on, people are going to try to game plan for us, and get adjusted to [our offense]," exclaimed Peters, but they're going to be shocked the first couple weeks, coming at them quick.  They're going to start off blitzing us, but once we start executing plays and getting back to the line of scrimmage, they won't blitz as much." "If you don't have your offensive line, as a quarterback your play's going to drop a bit," Peters said. "That's what happened last year.  And he (Vick) was fumbling the ball also.  That all comes with not having your starters protecting it.  If we give him time, he's going to make plays."
Peters expects to play three quarters this weekend in the Eagles' preseason matchup against the Jacksonville Jaguars and has recovered from the hamstring injury that kept him out of the first two exhibition matches.
"I think that's what Jason hopes to play," Kelly told reporters. "With every guy we've talked about how we want to get them two quarters and then we'll evaluate at halftime how many snaps did we get or not get. There is a certain amount of work that Jason needs to get it. He knows that. I love his mentality. If you ask Jason, he wants to play four quarters. That's great, but we'll monitor those guys no matter who it is at every position and see really, 'How many snaps we're getting. Are we getting enough work? Are we not getting enough work?' because you have no idea going in."
The point about the number of snaps is an important point, as Kelly's offense works fast.  "It's about plays run," Kelly explained. "I've heard the question about time of possession, but we've talked about it all the time. Time of possession is how much time can the other team waste.  Most games we lose the time of possession, but it's 'how many snaps do you face?' and I think in both games that we've played, we played more snaps than the other team. "We played a game against UCLA a couple of years ago and the time of possession was 40 to 20, they had 20 more minutes of time of possession and it was 73-71 snaps, so they had two more snaps. We won 60-13.   So all I gathered was that they stand around a lot more than we do," Kelly said.
"I think when people look at the time of possession and that's what people look at automatically, it's not time of possession, it's plays run that I look at, because you're not exerting any energy if you're just standing in the huddle.   Now if it's drastically different and teams are snapping the ball and getting 80 snaps against our defense and we're getting 50 snaps offensively, then it's an issue."  As the first-team offense gets its most extensive work of the preseason on Saturday, it will be interesting to see how many plays the Eagles run. Kelly is not concerned with the team's time of possession as much as the number of plays.
Many pundits have given the Philadelphia Eagles little chance to make any noise this year.  Perhaps they'd forgotten the impact of a solid offensive line, and what that impact can mean to a team eager to generate positive momentum.     Jason Peters is not entering the 2013 season with any hesitation or timidity.   For the elite offensive left tackle, that is a very good sign for the Eagles.
Written by:  @milroyigglesfan
For #thasportsjunkies101
---
---
Categories: Uncategorized