Rice Is Nice, that's what they say,
Rice Is Nice, throw some my way,
Rice Is Nice on any day,
Twice as nice when violins play.

- Lemon Pipers, Rice is Nice Lyrics, 1968 -
"We are getting better and better every day,'' Wilson said. "It's so exciting for me, especially just playing the quarterback position. We have been scoring a lot of touchdowns in practice and hopefully that translates to the game. Usually it does. That's what we did last year during the season. We started scoring more and more touchdowns throughout practice and then it happened throughout the season.''
It's amazing what adding a solid wide receiver will do for a quarterback.    There was never a question about the Seahawks offense showing up for the season, but the early party of training camp and scrimmage was not sitting well with Pete Carroll.   Well, that was then, this is now.   Sidney Rice has returned, and  was back going full speed on the practice field. Percy Harvin was back, too, continuing the next phase of his rehabilitation.
All of which are among reasons Seahawks quarterback Russell Wilson feels Seattle's passing attack is beginning to come together.  The offense appeared to have one of its best days of camp during Monday's two-hour workout, scoring again and again during a red-zone drill.
"Having him (Rice) out there is so nice," coach Peter Carroll said. "He is a leader for our receivers, so it's good to have him.''   Rice, who had his most active practice since having a procedure similar to platelet-rich plasma injection in Switzerland about two weeks ago, was responsible for several scores and even more completions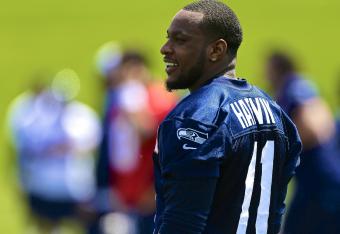 Harvin, meanwhile, is back at the Virginia Mason Athletic Center on the shores of Lake Washington after surgery on his hip in New York on Aug. 1.
"He's trying to get back as fast as he can,'' Wilson said. "He's so motivated. It's going to take him some time, obviously. But just to have him around, to have a guy like that who brings energy when he walks into the room. That's what you want… you feel his passion, you feel his love for the game.'.
Considering the way the defense has been playing all preseason, any boost to the offense magnifies the optimism of this team and its fanbase.    Clearly the Seahawks have every right to feel they are in the running for the Super Bowl this year.
And why not?  They are playing some of their best football.   And they just got better.
Written by:  @milroyigglesfan
For #thasportsjunkies101
http://www.thasportsjunkies101.com
---
---
Categories: Uncategorized